Day in the Life: Working at One of the Biggest Accounting Firms in the US was originally published on uConnect External Content.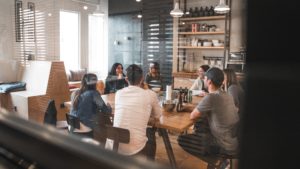 There is nothing that compares to an energetic, engaged, and sociable office environment. A place that feels like a second home, where you know everybody, where you can put your best foot forward, and where you can grow and thrive with a group of diverse minds who aren't just your colleagues but your friends too.
We're happy to say that such an office exists in the heart of Minneapolis. KPMG Minneapolis has built a culture and community that goes far beyond an office space. In our conversations with employees from the Minneapolis office, both new and old, we discovered what makes their office perfect for those who want more than a run-of-the-mill office experience.
Collective Problem-Solving
A very common worry that a lot of entry-level employees or early career professionals come across is what to do when faced with obstacles. As is the case with any new job, challenges will arise, so this is very natural.
When we spoke with Reece English, a former intern and current Tax Associate at KPMG, he mentioned that having a bunch of fellow colleagues in the same position as him was incredibly helpful. For example, one day Reece was having an issue with a platform he was using at his desk. After firing off a question to a fellow colleague, instead of replying in the chat, she stopped what she was doing and went over to Reece's desk and walked him through it.
Whether it's asking a fellow intern for a ride to work or getting a managing partner to look over a review you did, everyone at KPMG seeks to support one another whenever possible.
Social Life
In our conversations with employees from KPMG, we discovered that they cultivate a culture that values socializing and employee interaction. Pizza days, taco Tuesdays, morning coffee and donuts, and happy hours are incredibly common at the KPMG Minneapolis office. These events help build camaraderie and meaningful bonds between employees.
The Minneapolis office even has a basketball team and kickball team. While the basketball team is company-wide, the kickball team is exclusively for interns and gives them the chance to compete in a tournament against the other Big Four accounting firms. KPMG won in 2021 but lost in 2022 so they are hoping for a big comeback next year.
Lastly, the training at the KPMG Lakehouse in Orlando also underscores the firm's dedication to building a well-connected community. Every year, all KPMG professionals, from intern to partner, head down to the training and innovation center to upskill, socialize, and get to know one another better. Fit with a gym, social venues, and tons of other amenities, the experience at Lakehouse goes to show the firm's dedication to creating fun and lasting bonds between employees.
Real Experience with Clients
The KPMG Minneapolis office is located in close proximity to clients, many of which are Fortune 500 companies. In fact, Minnesota is home to over fifteen Fortune 500 companies, most of which are audit, tax and/or advisory clients of the Minneapolis office. What this means is interns and associates get the chance to interact and work directly with clients on a regular basis.
Whether it's through coffee chats, boardroom meetings, or onsite engagements, employees get the chance to work directly with these clients as they help influence business decisions in real-time! For Lilli Denison, that meant no day was the same.
This communal aspect, paired with the client engagement that even interns get to partake in, made Lilli realize that employees at the Minneapolis office would always be exposed to new, exciting, and meaningful work.
A Supportive Network
Another one of the most alluring aspects of the KPMG Minneapolis office is the bottomless support network provided by fellow colleagues and partners. In our conversation with James Powell, the office managing partner in Minneapolis, he spoke about the "pass it forward" mentality that exists throughout the organization.
James emphasized how there is a "whole network of people who, yes, have a job to do, but at the same time also find it very important to make sure that the people around them are successful." James went on to say how much of a proud culture the KPMG Minneapolis office has and how that pride reverberates off the behavior of employees helping one another. This pride stems from their devotion to helping fellow colleagues and lifting each other up whenever possible.
At KPMG, it doesn't matter if you've been with the company for a day or a decade, everyone is treated the same and given the same opportunities to grow and succeed.
Make the Minneapolis Leap
People choose to stay at KPMG for a variety of reasons. Some include the ones we mentioned earlier, but many of them are discovered by the employees themselves. Whether it's the support system, the social life, or the paths to success that are paved for each and every employee, the KPMG Minneapolis office is the destination where early career professionals go to thrive.
Learn more about the internships and open roles that KPMG is looking to fill at their Minneapolis office and locations across the country here and begin your road to success!
The information contained herein is of a general nature and is not intended to address the circumstances of any particular individual or entity. Although we endeavor to provide accurate and timely information, there can be no guarantee that such information is accurate as of the date it is received or that it will continue to be accurate in the future. No one should act on such information without appropriate professional advice after a thorough examination of the particular situation.
© 2023 KPMG LLP, a Delaware limited liability partnership and a member firm of the KPMG global organization of independent member firms affiliated with KPMG International Limited, a private English company limited by guarantee. All rights reserved.
The KPMG name and logo are trademarks used under license by the independent member firms of the KPMG global organization.
The post Day in the Life: Working at One of the Biggest Accounting Firms in the US appeared first on Job and Internship Advice, Companies to Work for and More | WayUp Blog.