Business Analyst Career Path: What's the Trajectory? was originally published on uConnect External Content.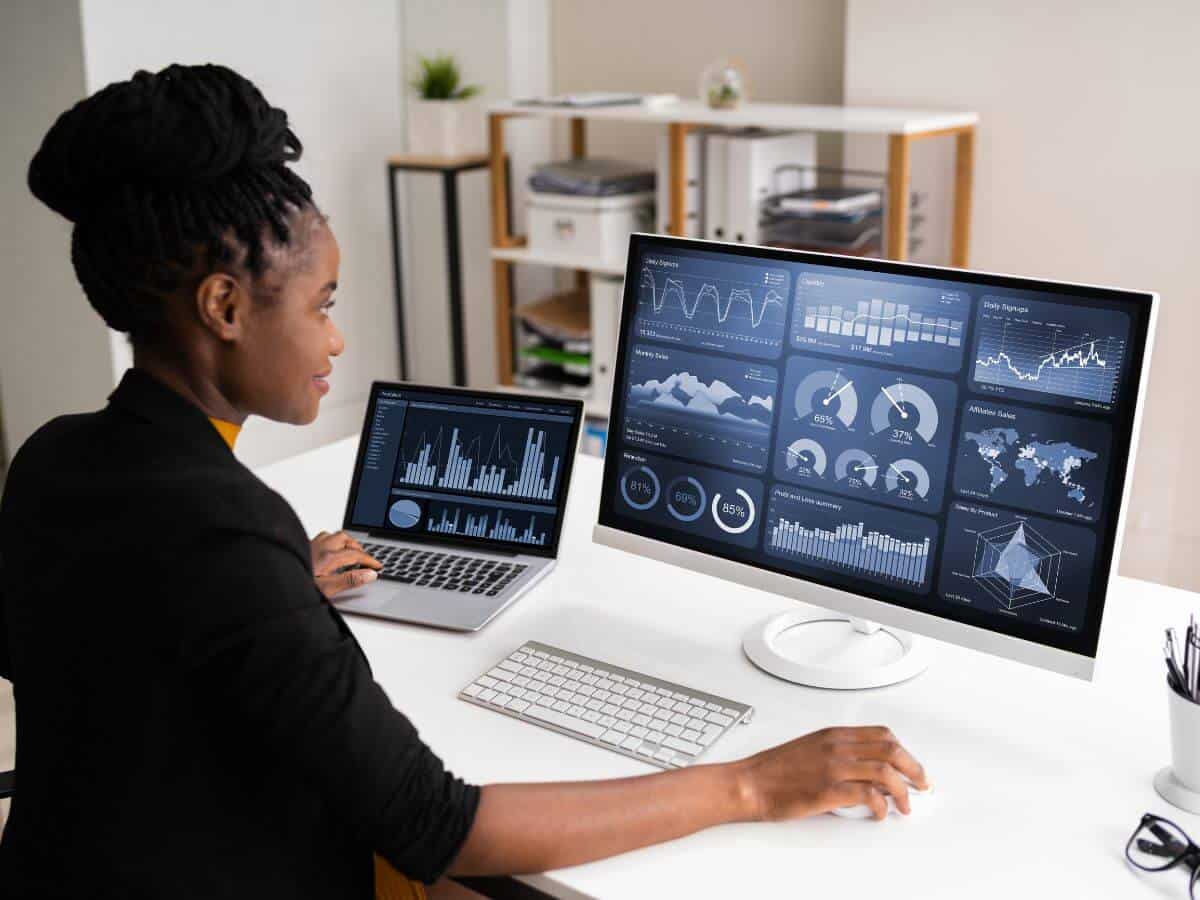 The business analyst career path starts with roles focused on analyzing data to solve problems and improve efficiency. Eventually, business analysts progress into supervisory and management positions, using data analytics to guide company decisions. A business analyst may even become an executive or member of a company's C-suite, strategizing a company's path forward.
In this guide, we'll go over:
What Is a Business Analyst?
Business analysts aim to help companies make data-driven decisions that prioritize efficiency, bridging the gap between information technology and business. Generally speaking, a business analyst's job is to analyze data to understand and evaluate business processes, services, products, and software.
Many tasks in business analysis are project-based, with the goal of solving one specific problem or improving one system or process.
"The average day is a mix of customer/client meetings and organizational tasks and projects," says Sam Crunkilton, business analyst at Pivotree. "I have to meet with customers (both internal and external) in order to ask questions, have discussions, and develop an understanding of the project and requirements."
Common tasks of business analysts include:
Identifying problems and providing possible solutions
Analyzing large amounts of data
Creating visualizations of data to better communicate findings
Forecasting outcomes of various potential business decisions, like budget options and pricing adjustments
Ensuring business activities align with overarching company goals and strategies
>>MORE: Explore how business analysts apply their problem-solving skills in consulting roles with Accenture's Client Research and Problem Identification Virtual Experience Program.
Types of Business Analysts
Business analyst is an umbrella term covering a range of job titles and roles. Job titles business analysts may have include:
Management analyst
Enterprise analyst
Business systems analyst
Systems analyst
Business intelligence analyst
Business process analyst
IT business analyst
While these are all business analysts, certain roles may focus more on one area than others. For example, a data analyst is a type of business analyst who deals with data more intimately than, say, a systems analyst who focuses primarily on reviewing computer systems and processes.
Find your career fit
Discover if this is the right career path for you with a free virtual work experience.
Career Path for Business Analysts
Early roles in a business analyst career path typically involve more hands-on data analysis and learning how the business functions. Progressing through the career, a business analyst may focus more on drawing conclusions and recommendations from the analyzed data and mentoring new analysts.
Because so many job titles fall under the umbrella of business analysis, many analysts begin their journey in one role and then progress into other roles or specializations.
Entry-Level Business Analyst Roles
Common job titles: junior business analyst, entry-level analyst, junior analyst, analyst, business analyst I
Starting in a business analysis career requires being familiar with how data works and why it matters for businesses. Entry-level positions involve a lot of analysis and implementing changes and decisions made by more senior analysts.
Many business analysts begin in different data-heavy entry-level positions in data management and analysis before progressing into more specific business analyst roles.
For example, "I started in data management and working with vendors," says Crunkilton. "And I have now moved into a business analyst role where I help customers implement data management software systems."
As a junior analyst grows in their career, they receive guidance and mentorship from superiors to begin to understand different analytical approaches and which types of solutions work best for various projects or problems.
Mid-Level Business Analyst Roles
Common job titles: senior business analyst, business architect, senior analyst, lead business analyst, business analyst II, business analyst III
Mid-level roles in business analysis are often called senior positions because these are the highest roles available before entering management and executive-level positions. However, mid-level roles do still involve leadership, especially in guiding entry-level analysts through solving complex problems.
Mid-level business analyst roles also include "more responsibilities and larger customers and projects," says Crunkilton.
At this point, an analyst should be more independent, able to jump into a project and quickly determine how it should be approached, where the data should come from, and how long it should take to complete. At the higher positions at this level, a business analyst may take on certain management positions overseeing small teams of analysts or full-scale projects on their own.
Senior-Level Business Analyst Roles
Common job titles: director of business, senior business architect, enterprise architect, business analyst IV, project management office director, vice president, chief information officer, chief operations officer, chief technology officer
Senior-level business analyst roles are primarily high-level management and executive roles, overseeing a team or entire department of analysts. At this level, a business analyst may also step into a more business-focused or strategic role rather than dealing directly with data.
These roles also "allow you to manage, train, and help other analysts grow as they are advancing in their careers," adds Crunkilton.
Eventually, a business analyst may enter C-suite positions, like chief information officer (CIO), chief operations officer (COO), or chief technology officer (CTO), depending on what specializations they took on during their career.
>>MORE: See how big data helps businesses achieve goals with KPMG's Data Analytics Virtual Experience Program.
Business Analyst Education, Certifications, and Skills
Education
Entry-level business analyst positions typically require at least a bachelor's degree. Degrees in analytical or quantitative fields like economics, computer science, data science, information management, statistics, or finance can be especially useful. These majors can provide a good foundation in analytical thinking and problem-solving.
As a business analyst progresses, a master of business administration (MBA) or higher degree in a quantitative field may come in handy. Additionally, some schools may offer specialized degrees in business analytics.
Outside of degrees, prospective business analysts may consider certificates in areas of professional development to boost their resumes and help them move into higher positions.
For example, "I earned a Certificate in Leadership & Professional Development from UW-Madison, which has been very beneficial as I advance in my career," says Crunkilton.
Certifications
Business analysts can benefit from professional certifications that prove their expertise and skills. Some of the most common certifications in business analytics include:
Certified Analytics Professional (CAP): Displays high-level skills in understanding business problems, methodology selection, model building, lifecycle management, analytics problem-solving, and data usage
IIBA Entry Certificate in Business Analytics (ECBA): Shows foundational skills in business analysis and adherence to the Business Analysis Book of Knowledge (BABOK) Guide set forth by the International Institute of Business Analysis (IIBA)
IIBA Certified Business Analysis Professional (CBAP): Designed for mid- to senior-level analysts and proves high-level knowledge in business analytics
IQBBA Certified Foundation Level Business Analyst (CFLBA): Demonstrates competencies in modeling, analysis of requirements, designing business solutions, and knowledge of rules and standards of business analysis, as determined by the International Qualification Board for Business Analysis (IQBBA)
PMI Professional in Business Analysis (PBA): Illustrates business analysis and project management expertise by standards set forth by the Project Management Institute (PMI)
Skills
Soft Skills
Business analysts need to be analytical thinkers, first and foremost. They need to be able to use data and information to overcome complex issues and find innovative and logical solutions.
"Communication skills are also important," says Crunkilton, "because a lot of the job is being able to clearly and concisely communicate with customers, asking questions and demonstrating a clear understanding of business requirements."
Other interpersonal and soft skills business analysts need include:
Negotiation
Critical thinking
Problem-solving
High-degree of organization
Curiosity
Leadership
>>MORE: Learn how to communicate insights found in data analysis more effectively with Accenture's Data Analytics and Visualization Virtual Experience Program.
Hard and Technical Skills
A successful business analyst needs to be able to employ a variety of data-collection techniques, such as running focus groups or interviewing people. Many hard skills a business analyst uses involve evaluating the data they collect through these collection techniques.
Some core skills include:
Knowledge of programming languages for data manipulation and visualization, like R and Python
Familiarity with statistical software like SAS and SPSS
Experience using databases and SQL (structured query language)
Competency with data-specific programs like Tableau and Power BI
Great Excel skills
Financial analysis approaches, like regression analysis and profitability ratios
>>MORE: Level up your data and analysis skills with BCG's Data Science and Analytics Virtual Experience Program.
Business Analyst Salaries
Salaries for business analysts vary greatly depending on location, seniority, specialization, and industry. Based on survey data from the International Institute of Business Analysis (IIBA), energy and utilities, manufacturing, and transportation industries offer the highest salaries for business analyst roles.
The U.S. Bureau of Labor Statistics reports that the average salary for management analysts, another common title for business analysts, was $100,530 in 2021, with some of the highest-paying industries being metal ore mining and oil and gas extraction.
Glassdoor estimates put the average salary of business analysts around $82,000. Salaries may differ by the level of experience and job title, too.
For example, a business analyst could progress through the following job titles and salary ranges throughout their career:
Start as a junior business analyst with an average salary range of $57,000 to $84,000.
Promotion after several years of experience to a senior business analyst with an average salary range of $82,000 to $125,000.
Eventually, become a seasoned business analyst and earn the title of director of business with an average salary range of $85,000 to $142,000.
Job Outlook for Business Analysts
Business analysts will become even more necessary as businesses continue to prioritize making data-driven decisions. According to the BLS, the role of management analysts is expected to grow 11% between 2021 and 2031, which is much faster than the average for all occupations.
Even similar job titles to business analysts have great job outlooks. For example, the employment of operations research analysts is expected to grow 23% between 2021 and 2031. Operations research analysts are business analysts who focus on business operations like supply chains and production schedules. Data scientists, too, have a projected employment growth of 36%!
Learn in-demand skills and get job-ready with Forage's free virtual experience programs.
Image credit: Canva
The post Business Analyst Career Path: What's the Trajectory? appeared first on Forage.