What Does a Marketing Analyst Do? was originally published on uConnect External Content.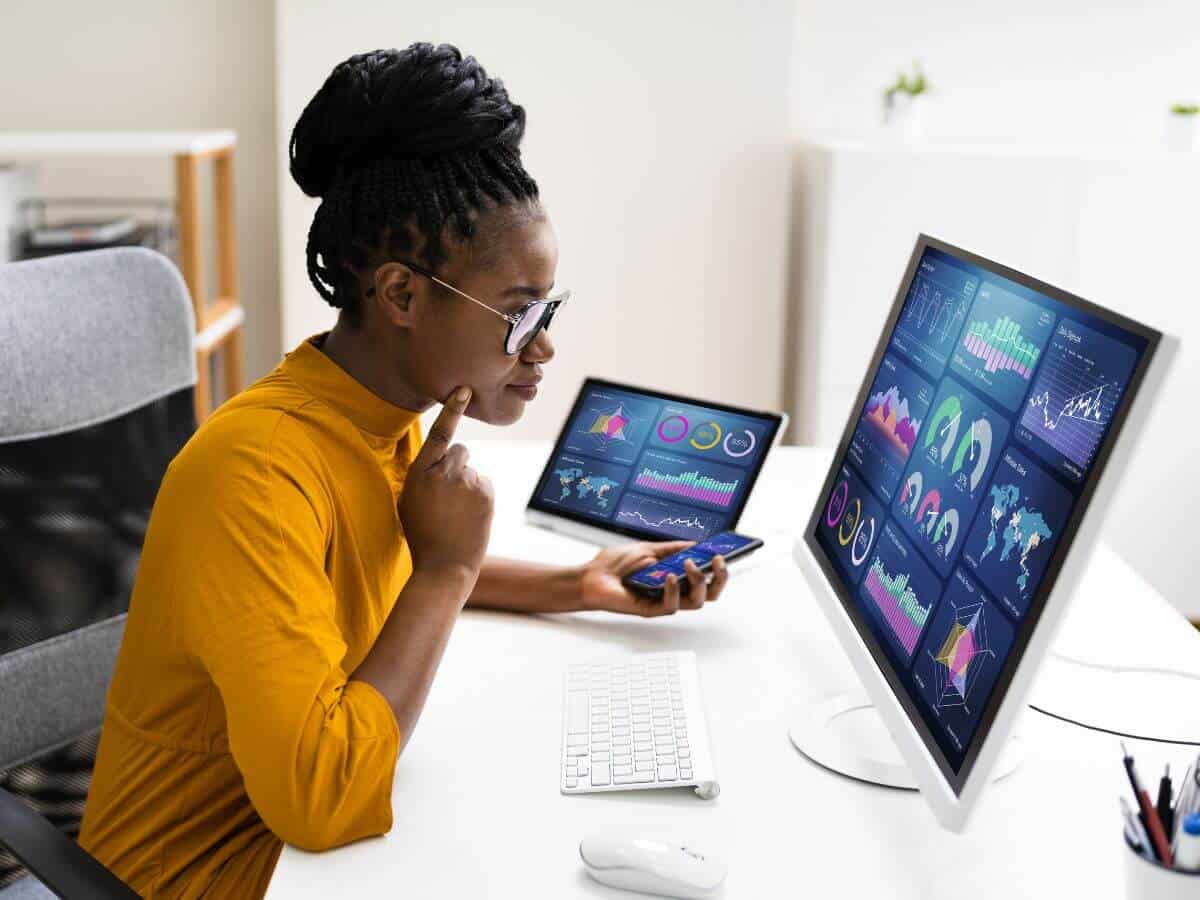 Marketing analysts help companies make data-driven marketing decisions. Also called marketing research analysts (or market research analysts), these professionals work in nearly every industry, powering a company's marketing team through data analysis. But what does a marketing analyst do, actually?
In this guide, we'll go over:
What Is a Marketing Analyst?
A marketing analyst is a person who analyzes data and recommends changes to marketing tactics. This job means being an investigator, tracking trends, and uncovering new opportunities.
"Marketing analysts collect and analyze data on consumer behavior, market trends, and competitors to inform marketing strategies and tactics," says Kacper Rafalski, digital marketing strategist at Netguru.
These analysts are also skilled statisticians, using raw data to help determine what products or services people want. These insights determine how the company will focus promotions, sales, and advertising campaigns.
Ultimately, all companies need an in-depth understanding of their consumers and how to effectively target those audiences.
Because of this common need across all companies, "marketing analysts can work in various industries, such as health care, retail, and finance," says Jim Liu, CEO of SEO Vendor.
Typical responsibilities in a marketing analysis career include:
Gathering data from a variety of sources, like surveys, third-party studies, and website information
Cleaning and sorting data to make it usable for analysis
Running A/B and multivariate tests
Using SQL to query databases
Defining target audiences and their behaviors
Reporting performance of marketing activities, such as campaign effectiveness
Communicating projected tests and results to other teams with PowerPoint presentations
"They may also collaborate with other departments, such as sales or product development, to align marketing efforts with business goals," says Rafalski.
>>MORE: Learn what working on a marketing team for a major brand is like with lululemon's Omnichannel Marketing Virtual Experience Program.
Types of Marketing Analysts
An analyst can focus on specific areas and specialize in one type of marketing or campaign. Some types of specialized analysts include:
Digital marketing analysts focus on online marketing.
Product marketing analysts specialize in the marketing of specific products or product lines.
Email marketing analysts primarily launch and test email marketing campaigns.
However, a marketing analyst can also be specialized in an area outside of marketing, bringing a different skill set to their company's marketing team. For example, they may also be a:
Data analyst with high-level skills in discovering insights from massive amounts of raw data
Business analyst with a strong understanding of how businesses run, helping the marketing team prioritize broader business goals
Financial analyst with in-depth knowledge of how to use financial data to understand the business and its customers
Market analyst skilled at tracking market trends and determining how those trends can affect the economy, company, and marketing efforts
Marketing Analyst Salaries
According to the U.S. Bureau of Labor Statistics (BLS), marketing specialists and market research analysts across all industries, locations, and experience levels have an average annual salary of $76,080.
However, estimates from other sources are slightly more conservative. For example, estimates from Glassdoor say that the average salary for marketing analysts, regardless of location, industry, or experience, is around $66,800. Those with less than one year of experience earn an average of $61,700 annually, and analysts with over 15 years of experience earn around $96,500 per year.
Analysts working for major brands may have higher salaries since companies that operate globally or across the U.S., like Verizon and Walmart, need great analysts to keep them ahead of the competition. Additionally, marketing analysts may be eligible for other forms of compensation, like annual bonuses and profit sharing.
How to Become a Marketing Analyst
Education
A marketing analyst's role involves a lot of data, so a degree in a quantitative field like statistics, mathematics, or data science can help you gain the skills you need to be successful. However, marketing and business degrees are also valuable because you need a fundamental understanding of how businesses work and how marketing fits into a business's structure.
Regardless of your degree, taking "courses in statistics, data analysis, and market research can be particularly beneficial," notes Rafalski.
Pursuing a graduate degree in marketing, statistics, or business can also be helpful for promotions and landing higher positions.
Certifications
The American Marketing Association (AMA) offers certifications in digital marketing, content marketing, and marketing management, all of which can boost your resume and help you demonstrate high-level skills in marketing strategy, analytics, email marketing, and social media marketing.
Marketing analysts can also benefit from certifications like:
Google's data analytics, digital marketing, or UX design certification courses to show an in-depth understanding of the technical aspects of analysis
Meta's marketing analytics certificate to prove skills in strategy, evaluating a campaign's effectiveness, Python programming, and Tableau software
"Certificates and certifications such as HubSpot Inbound Marketing and Marketo can also increase your credibility as a marketing analyst," says Liu.
Skills
Hard and Technical Skills
The key hard skill needed for all marketing analysts is data analysis. Understanding how to take data and glean useful insights from it is vital for anyone pursuing a career in marketing analysis. Other crucial skills include:
Statistical analysis skills
Ability to use databases and query languages, like SQL
Experience with web analytics platforms, like Heap and Google Analytics
Familiarity with methods of collecting data, such as running polls, surveys, or focus groups
Data visualization skills, using programs like Tableau or Google Charts
Understanding how to effectively test campaigns and efforts, like A/B testing email copy
>>MORE: Learn how to harness the power of data with Accenture's Data Analytics Virtual Experience Program.
Soft Skills
A marketing analyst needs to have impeccable analytical thinking skills first and foremost. More soft skills necessary for this career include:
>>MORE: Start building your skills for a career in marketing analysis with Forage's marketing virtual experience programs.
Advancement Opportunities
As marketing analysts progress through their careers, they may be promoted to higher positions.
"Senior marketing analyst, marketing manager, or director of marketing" are some of the possible promotions, says Rafalski.
Analysts who show a high level of skill and expertise may become executives of a company, like a chief marketing officer.
Some options exist to transition out of this traditional promotion ladder, though. For example, "if you start your own marketing agency, you can become an owner or CEO like myself," says Liu.
Using the skills you learn as a marketing analyst, you can also go into other analytical roles, such as market research, data science, or business analysis.
Find your career fit
Discover if this is the right career path for you with a free virtual work experience.
Pros and Cons of Marketing Analyst Careers
ProsConsVarietyRepetitiveGrowth potentialHigh-pressure environment
One of the best parts of a career in marketing analysis is how varied the role can be.
You get "the opportunity to work with data and make data-driven decisions," says Rafalski.
That can be for any industry or any product, though. Even within one company, it is possible to be working on very different projects or products at the same time.
There is also a high potential for growth. For skilled analysts, "positions such as director of marketing analytics, VP of marketing analytics are possible," says Liu.
However, this role can become repetitive at times. Ultimately, analysts spend a lot of time digging through data and running similar style tests for different campaigns. While there is a lot of variety to the role, some of the day-to-day tasks can be monotonous for those who aren't extremely passionate about data.
Another downside to this career is "the need to work under tight deadlines," notes Rafalski.
Beyond that, a lot of pressure is put on marketing teams and their analysts. For example, if a campaign doesn't work or a product isn't selling the way it should, the marketing team can be in a stressful situation. Additionally, analysts need to be very careful and avoid using inaccurate data that could lead to unsuccessful strategies.
Interested in exploring other jobs in analytics? Check out these careers:
Image credit: Canva
The post What Does a Marketing Analyst Do? appeared first on Forage.